Discover kunzite, a pink gemstone that may be less well-known than other gems but is just as beautiful and interesting to learn about.
What is kunzite?
Kunzite is a popular gemstone among enthusiasts, but this pink and purple gemstone is not as well-known to the general public. Kunzite is a pink and purple variety of the mineral spodumene with a chemical composition of lithium aluminum silicate. Spodumene was first discovered in Sweden in 1800 and is still used industrially as a lithium ore. Some crystals of non-gem material spodumene are over 40 feet long and 5 feet wide! That's a lot of ore! The name spodumene comes from the Greek word "spodumenos" meaning "burnt to ashes", which refers to the opaque, whitish-gray color spodumene can have before and during processing.
Manganese gives kunzite its pink coloration, which creates shades of lilac, cool lavender, hot fuchsia and rich orchid purple by candlelight (pictured below). Kunzite can also be found with yellow coloration when traces of iron are present. Hiddenite, or green spodumene, is created when chromium is present in the composition of the stone.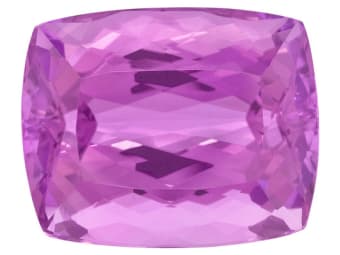 Kunzite has beautiful pleochroism, an optical effect where a gemstone's color can change depending on what angle it is viewed. Kunzite's pleochroism is so strong that you can see it in the rough crystals and faceted gemstones. Additionally, kunzite stones are dichroic, meaning they only show two pleochroic colors. Kunzite gemstones are often cut perpendicular to the direction of the crystal's darker pleochroic color, which allows the maximum color and sparkle of kunzite to be shown.
Kunzite also displays phosphorescence, the glow of a gemstone in a dark space after being exposed to sunlight or UV light. This effect can happen in other gemstones like diamonds. Whether it's pleochroism or phosphorescence, both optical effects can be best seen in larger kunzite crystals, gemstones or jewelry with open bar or prong settings.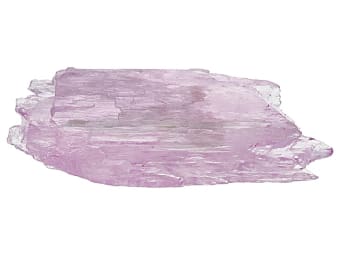 What is the meaning of kunzite?
Some crystal healers and enthusiasts believe that pink gemstones like kunzite, have metaphysical or spiritual properties. These properties are believed to calm or mentally heal individuals who wear or possess kunzite or other pink gemstones. Kunzite is also viewed as a source of the heart chakra, one of the seven energy points in people that causes love and compassion. Some believe that unblocking the heart chakra with stones like kunzite will release negative emotions of anxiety, anger or fear. And because stress and matters of the heart can impact your physical health, some say that this stone's relation to the heart chakra could improve circulation or relieve headaches.
Lastly, some people believe that the color pink can calm and slow a person's heart rate, as pink can reportedly alert the brain to reduce adrenaline production in the body. After all, the color pink is viewed as a feminine, romantic and joyful color to look at, and pink can cause feelings of warmth, love or comfort. Because of this, kunzite may prove to be a helpful sight for a calmer feeling.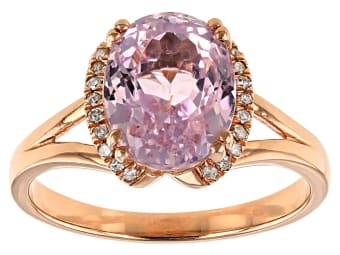 What is kunzite good for?
Kunzite is great for collecting. Not only is it delightful to look at, but kunzite can also be faceted to fit beautiful jewelry for a vibrant or lovely look. Since it has a Mohs hardness of 6.5 to seven it can be worn on multiple occasions if careful.
Due to its perfect cleavage in two directions, kunzite should be securely fitted to jewelry pieces and not dropped. Kunzite is also great to wear as an evening stone since an excess of direct sunlight or UV light can fade its special color.
Lastly, kunzite is a great pink gemstone alternative to other gems like morganite, pink sapphire, pink topaz, rose quartz, pink zircon and more. Kunzite can also be paired with these gems and with silver or gold. Moreover, kunzite can be the perfect addition to evening wear for a casual or formal setting.
Where is kunzite found?
Kunzite is found in many countries that include: 
the United States (California)
Canada
India
Sri Lanka
China
Nepal
Australia
Ethiopia
Tanzania
Mozambique
Namibia
Large sources of kunzite are located in the countries: 
Afghanistan
Pakistan
Madagascar
Nigeria
Brazil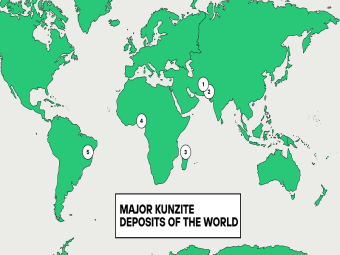 These countries are the sources of most kunzite gem materials used for jewelry manufacture or crystal collecting.
When was kunzite discovered?
Although spodumene was discovered roughly a century earlier, kunzite was first found in the Pala Mountains near San Diego, California in 1902, although some sources claim it was found even earlier, in 1877. Kunzite received its name in 1903 in honor of George Frederick Kunz, an accomplished mineralogist. At that time, Kunz was the chief jeweler for Tiffany & Co.
Not many gemstones can boast about being first discovered in America, but because of its discovery in California, kunzite is considered an "American stone". In addition to this, kunzite is the American birthstone of September, according to the American birthstones calendar by Frederick Kunz. This is why kunzite is a special gem material in American gemological history.
Conclusion
Kunzite can be found all over the world but is considered an American stone for its discovery and history within the U.S. More importantly, its beloved shades of pink or light purples give this gem its memorable identity and a one-of-a-kind story. And if you don't already have kunzite in your collection, why not consider adding this pinkish-purple gem to your gemstone or jewelry collection?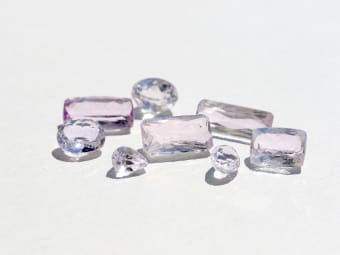 References
Abouzelof, J. (2015, February). Kunzite Meaning. Moonrise Crystals. Retrieved from https://moonrisecrystals.com/kunzite-meaning/
Olesen, J. (2023). Pink Color Meaning: The Color Pink Symbolizes Love and Compassion. Color Meanings. Retrieved from https://www.color-meanings.com/pink-color-meaning-the-color-pink/
Oliver, R. (2023, February 16). Pink Gemstones: List Of Pink Gemstones & Their Meanings. Truly Experiences. Retrieved from https://trulyexperiences.com/blog/pink-gemstones/
Sisk, G. D. (2011). Jewelry Television Guide to Gems & Jewelry. Jewelry Television.
Tiny Rituals. (2023). Kunzite Meaning: Healing Properties & Everyday Uses. Tiny Rituals. Retrieved from https://tinyrituals.co/blogs/tiny-rituals/kunzite-meaning-healing-properties-everyday-uses