Tanzanite is the purple, violet, and blue variety of zoisite. It was first brought to market by Tiffany & Co. in the mid- to late 1960's. The only commercial source of the stone is Tanzania and is considered a National Treasure by the Tanzanian government. The future of tanzanite is unclear since the world's production only comes from an area that is barely 6 kilometers long and 2 kilometers wide. Tanzanite became so popular by 2002 that it was added to the list of alternative December birthstones. The most valuable stones are an intense, rich blue with high clarity. Tanzanite is strongly pleochroic and as the stone is rotated you can see blue, reddish purple, and bluish green or greenish yellow colors. Most tanzanite on the market is heated except for mineral specimens prized for their strong trichroic colors. Cut stones are heated to 550oC produce the blue violet color. Some have argued that the change in color comes from a valance transfer in the chromophore Vanadium. Spectroscopy analysis proves that when the stones are heated that the Titanium in the stones is oxidized from Ti3+ to Ti4+. The Ti3+ chromophore which is red/yellow/green is transformed to Ti4+, which is colorless, leaving just the blue/violet component (Olivier 2006).
General Information
Classification
Optical Properties
Characteristic Physical Properties
Chemistry & Crystallography
Transparency
Transparent - Translucent
Dispersion
Strength: Weak Fire Value: 0.021
Refractive Index
1.691-1.700
Tolerance:(+0.005/-0.005)
Birefringence
0.008-0.013
Polariscope Reaction
Doubly Refractive (DR)
Fluorescence
SWUV: Inert
LWUV: Inert
Pleochroism
Trichroic, (in unheated gems) strong blue, purplish red and greenish yellow; (in heated gems) strong blue, slightly lighter blue, and purple
Specific Gravity
3.100-3.450 Range:0.1/-0.25 Typical:3.350
Inclusions
Tanzanite is a type I clarity stone. Stones rarely contain needles, chromite inclusions, growth and etch tubes.
Fracture
Conchoidal, Uneven
Cleavage
Perfect, in one direction, Good, in one direction
Chemical Name
calcium aluminum silicate with hydroxyl (OH)
Chemical Formula
Ca2Al3(SiO4)3(OH)
Crystal System
Orthorhombic
Chemistry Classification
Silicate
Tanzanite Colors
Bi-color

Blue

Purple

Purple
Tanzanite Spectra

AH Tanzanite
A large tanzanite of fine deep color provided this unpolarized spectrum . The main feature is the intense broad absorption band from 560nm to 630nm. Moderate band is also seen centered at 520nm. and a weak narrow line at 450nm. Very little variation was seen between the blue and violet rays other than a weaker absorption in the blue ray.

TANZANITE
Color due to vanadium. An untreated tanzanite retains its trichroism with a greenish overtone in the body color. A moderate absorption is seen from 540nm. to 590nm. with no transmission below 440nm. nor above 680nm. A weak narrow absorption line can be seen at 440nm.
We acknowledge the significant scientific contributions of John S Harris, FGA to the study of gemstone spectra and with deep appreciation to him, acknowledges the use of his images and related notes about gemstones and their spectra in the educational materials on this website.
Countries of Origin
Tanzania, United Republic Of; Unknown
History
Tanzanite formed during a mineralization episode about 585 million years ago. In 1984 the Tanzanian Government declared Ndugu Jumanne Ngoma, a local gypsum miner, the discoverer of tanzanite. He discovered the gemstone while walking through a field in the Merelani area in January 1967. Other reports name the discoverer as Ali Juuyawatu, a Masai tribesman. He then alerted Manual de Souza, who registered the first mining claims in July 1967. Rough was sent to the Smithsonian and Tiffany's later in 1967 for investigation. The stones were identified as a new variety of zoisite. Tiffany named the stone Tanzanite in honor of the country where it is found. From April 1968 to early 1969 the Tanzanian government issued 78 prospecting/mining claims. In 1971, the Tanzanian government nationalized all mining activities in the country and controlled the mining until 1983, when there was a transition to privatization. By 1989 there were numerous illegal miners working the area in a dangerous fashion causing the government to once again step in. In 1990 the Ministry of Home Affairs subdivided the area into 5 mining blocks. In 2020 after some disruption in the Tanzanite mining industry, the Tanzanian government stepped back in to take control of the tanzanite trade, restricting it to government trading hubs. Currently no rough more than 1 gram/5cts can be exported out of the country.
Care
Normal, gentle handling and avoid extreme temperature changes. Gentle wear, avoid ultrasonics and high heat in CVD coated stones.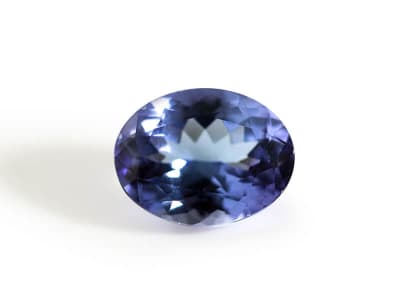 More About Tanzanite
Among the Masai tribesman it is said that a magical fire, lit from the heavens, swept through the area at the base of Mount Kilimanjaro. What made the fire magical? It had the power to transform the brown rocks found on the ground into brightly colored purple-blue stones. When the dust cleared away, and the blue stones were found, it was agreed that the fire brought good fortune to the people.