Collecting Rare Gemstones
Remember when you were a child and kept your most prized possessions in your pocket? Perhaps you hoarded your precious treasures in a little box hidden under your bed, protected from snooping siblings.
You might have had a special seashell or an arrowhead, maybe even a beloved rock with gold flecks in it. As an adult, your sparkling treasures are just as precious, though likely more valuable. Now you know that rock with gold flecks in it was probably quartz studded with pyrite crystals, and it may still hold a place of value, sentimental if not so monetary, in your collection.
Everyone knows what it's like to be smitten with rare, sparkling treasures and to want to squirrel them away in a safe place. So, here's a "good, better, best" strategy, so everyone with a passion for gemstone collecting can own truly fine gems. But where to begin?
Good: Rare Gems You've Never Heard Of
Golden Sphalerite
These rare gems represent a perfect opportunity for a beginning or seasoned gemstone collector to own an incredibly rare piece of nature's beauty that still comes at a very good price due to lack of demand. Golden sphalerite, for example, ranges from a few hundred to a few thousand dollars, but you get so much for your money with sphalerite. Though most people have never heard of it, sphalerite contains a dazzling amount of flash and sparkle and has dispersion more than three times that of a diamond. It would make an outstanding addition to any beginner or sophisticated collection, along with cerussite.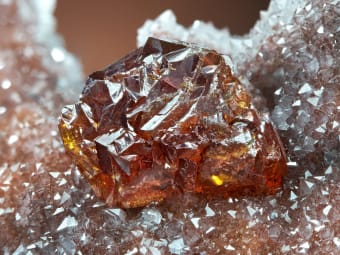 Cerussite
Cer-you-what? That's probably the reaction most people would have, but it's actually pronounced more like "seh-ruse-ite" and it's an incredibly lively, beautiful stone. Cerussite grows in twinned crystals that form unique stars, making it especially appealing to mineralogists, but its brilliant sparkle makes it desirable as a faceted stone too. Pure cerussite is colorless and contains a lot of lead, which helps increase its sparkle factor the same way lead crystal sparkles more than simple glass. It's unfortunate that cerussite is too soft for jewelry, because its beauty would give even diamond some healthy competition, but it can still be a perfectly pretty addition to a gem collection.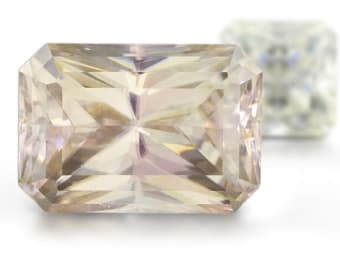 Rhodochrosite
Even if you have heard of rhodochrosite, you may have only seen it in opaque cabochons, but rhodochrosite can be a very rare, transparent reddish gem from the Sweet Home Mine in Colorado. According to a rhodochrosite vendor, "the magic of the Sweet Home rhodo is the almost neon red glow it achieves at night. It goes from soft pink in daylight to an amazing warm orangey-red glow at night under warm lights." It's also incredibly rare stuff; this material only comes from this Sweet Home mine, and it is already mined out. No matter what the demand, there will never be more transparent gemmy material from this mine.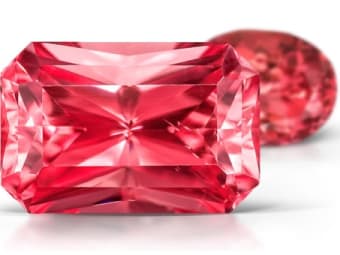 Better: Rare Stones and Unusual Beauties
Diaspore
In addition to the usual value factors that make a stone worthy and desirable, some stones boast special qualities like color-change ability and unusual provenance, or perhaps they are exceptional thanks to their incredibly large sizes, uncommon for their variety.
The Turkish color-change diaspore has earned an "expert's pick" designation from JTV Gemstone Expert Jay Boyle thanks to its extraordinary quality. He recommends that collectors buy "the bigger the better," if they can afford it. However, the market for diaspore has changed over the past decade since collectors could acquire five to 10 carats or more. Unfortunately, the Turkish color-change diaspore is much harder to find and collect today because of supply and price changes. Because of this, we recommend collecting a diaspore size that fits your personal budget for their rarity and distinction.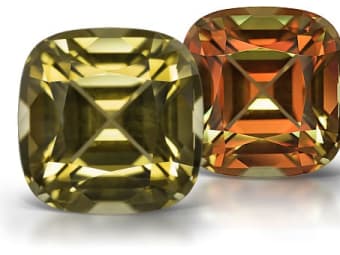 Pakistani Peridot
Another "expert's pick" from Jay Boyle is the large, perfect Pakistani peridot. As one of the very few remaining gems which has not doubled or tripled in price in the past few years, peridot's current market value is enticing compared to other stones that now cost literally up to 20 times more than what they did years ago. "How long can that last?" Boyle has asked, describing these gems as "super everything, rare and getting more so, and undervalued. These stones are not currently priced at where they should be based on beauty, rarity, durability and country of origin." Possessing all of the factors that build a stone's value plus a large size and respectable provenance, the Pakistani peridot is indeed a perfect and timely pick.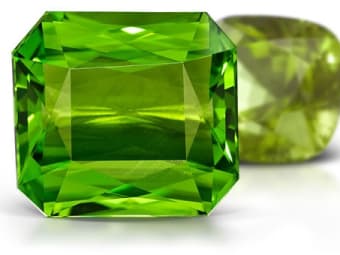 Kunzite
With one of the world's foremost gemologists as its namesake, kunzite is another worthy and appropriate addition to any gem lover's collection. Add to that the fact that kunzites are vivid orchid-pink in color and so large they could be measured in inches rather than millimeters, and you have a truly matchless stone. Though it has only been known in gem circles for a little more than 100 years, kunzite has quickly made a name for itself among the most serious of collectors.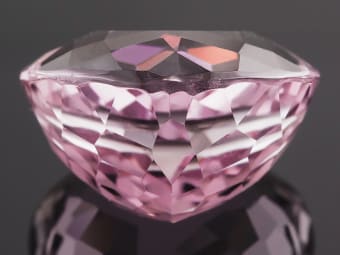 Best: Classic Rare Gemstone Favorites Always In Demand
An expert collector or perhaps one with a more generous budget (or no budget at all) might expand their collection to include stones that, while often equal in rarity to some others, may have unusual features that add to their value, such as favored provenance or high demand supported by literally hundreds of years of continuous popularity. Such stones include those known as "the big three": ruby, sapphire and emerald.
Unheated Sapphire
You may have already learned about the unheated yellow sapphire market, in which prices are climbing at an unprecedented rate due to diminishing supply and rapidly increasing demand. If you've bought an unheated sapphire recently, count yourself lucky; prices will most likely never be lower and, by all accounts, are bound to continue to increase dramatically, as they have done for the past few years. The same can be said of Burmese ruby and blue sapphire, especially when the stones are unheated and naturally amazing.
According to Boyle, top-color "unheated blue sapphire is eminently collectible due to it being recognized around the world, in all types of markets, by collectors, fine high-end jewelers and gemstone connoisseurs everywhere as an important gemstone." That kind of recognition and demand drives the desire and the price, making unheated blue sapphires one of the rare stones that continually grow in value. Ceylon, Kashmir and Burmese sapphires are particularly desirable to collectors.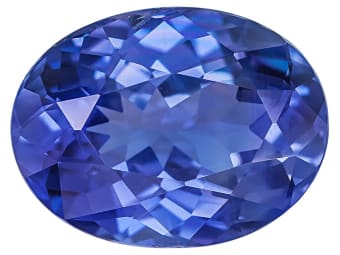 Spinel
Speaking of classically collectable gems, Boyle recommends the reddish-pink spinel with "intense blazing extraordinary color, clarity and cut." Though it was coveted by royalty for hundreds of years, both knowingly and unknowingly when mistakenly thought to be ruby; spinel is finally getting its own well-deserved fame as a magnificent gem. Naturally found in an array of colors including passionate juicy reds, pinks and flaming reddish oranges as well as highly favored cobalt blues, spinel is desired by collectors and jewelers alike. That desire is creating a demand that is relatively new for spinel, the lack of which has kept prices surprisingly low and which will now cause prices to increase. These factors make spinel another gem to watch and buy, whenever your budget allows.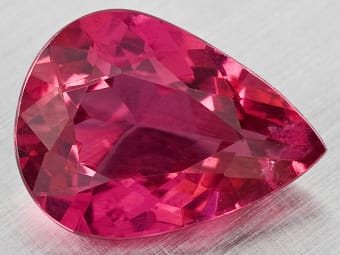 What Makes Rare Gemstones Collectible?
Gemstone collecting was made an art as well as a science by the late Dr. Eduard J. Gubelin, affectionately known in the industry as "gemstone royalty" because of his world-class gem collection, his pioneering research and his charming, gentlemanly ways.
According to Dr. Gubelin, when it comes to collecting gems, "rarity is the backbone and is the distinctive, predominating characteristic." That's why the top picks aren't about price; they're about rarity, along with quality and value. The high-end gem buyers are careful to pick the best of the best, not the most expensive. Believe they are the same thing? Not always. Even an incredibly rare collector's stone can, thanks to its relative anonymity and subsequent lack of demand, be quite affordable. On the other hand, rare gemstones that are in great demand will naturally command higher prices.
Dr. Gubelin's recommendation of rare gemstone collecting continues: "It is worthwhile to assemble rare gemstones into collections, rare as distinct from the gemstones widely available in the trade." The stones he refers to are typically known as "collector's stones," which are usually so unheard of that they haven't had a chance to create a proper following for themselves. They might be breathtaking gems that everyone would want, if they knew such beauties existed. These stones might also be too soft and fragile to be set in jewelry, where they would surely gain wide popularity. However, their anonymity makes them perfect for a rare gemstone collection.
Why Collect Rare Gemstones?
So why do we collect rare gemstones? Most of us are drawn to their lovely colors and natural, sparkling beauty; that's probably the best reason to collect gems, and if your collection happens to grow in value as well, that's a bonus. "Teamed with bewitching beauty," Dr. Gubelin writes, "rare gems guarantee collectors, firstly, the satisfaction afforded by a varied, fascinating hobby and, secondly, protection against an erosion in value."
While no one can say that gemstones are an investment, it's hard not to see the value in owning something so lovely and rare that will only grow more rare, as gemstones are a nonrenewable natural resource, mined by hand in some of the most remote, weather-worn, and politically unstable places in the world. For these reasons, and "if these collector's items are truly first-class in nature and of fine quality," Dr. Gubelin continues, "they will maintain their value and represent a mobile capital safeguard that can be redeemed at any time."
If you've never heard of gemstones considered "capital," you're not alone. But unlike sports cars and real estate, there is no ongoing development or production of gemstones. While many collectors might enjoy amassing vintage automobiles and masterpieces of art, only a gemstone collector could so easily hold a million dollars of exquisite little "assets" in the palm of his hand. Gems are among the most portable of possessions, having been a form of transportable wealth for thousands of years. Other valuable assets like stocks and property certainly exist, but they can't compare to gemstones as such a pleasure to own, to study, to take out of their packages and gaze upon ... just like that gold-flecked rock you once kept in your pocket.
How To Get Your Rare Gemstone Collection Started:
Most collectors and gem dealers will tell you that they desire the gemstones that speak to them with their beauty, rarity or both. Beyond that, there are many ways to approach gem collecting, no matter what your budget might be. If you love intense, vivid shades of blue, you might want to focus on gems of all that same color, building a collection of sapphire, blue spinel, tanzanite, benitoite, kyanite and hauyne.
Some high-end collectors prefer to specialize in one type of highly sought fine gemstones like Colombian emeralds, unheated Burmese rubies or Kashmir sapphires. Another option would be to collect a full rainbow of gems in one species, including one each of the stones that come in a wide variety of colors, like spinel, tourmaline, garnet or sapphire. You might want to focus exclusively on pink spinel or tsavorite garnet and collect as many shades as possible of that one color.
Another unusual approach would be to collect one of every birthstone, stones that are found only in your state or the United States, or all of the Biblical stones from the Breastplate of Aaron. If you have a considerable budget and even more patience, you might venture to collect your own suite of gemstones perfectly matched in color, size or shape, or all three. 
Rare gemstone collection ideas to get you started:
Favorite color
Type
Full rainbow of a species
Every birthstone
Rare gems from your state
Biblical stones