Alexandrite is the phenomenal variety of chrysoberyl that displays different colors in different lighting environments, for example daylight and candlelight. Alexandrite displays the color change phenomenon because trace amounts of Cr3+ has substituted for Al3+ in the crystal lattice. It was discovered in the Ural Mountains of Russia sometime around 1833 and it was named in honor of Czar Alexander II. The stones can be yellowish, brownish, grayish, or blueish green in daylight and orangy or brownish red to purple red in incandescent light. Stones that show considerable color change from strong bluish green to red command premium prices. Alexandrite is known to come from Russia, Brazil, India, Madagascar, Myanmar, Tanzania, and Zimbabwe. Lab created color change sapphire was the first alexandrite simulant and it was created in 1909. The Czochralski method, the most popular and cost-effective way to manufacture lab created alexandrite, was developed in 1916. The "floating zone" method to create synthetic alexandrite was developed in 1964.
General Information
Classification
Optical Properties
Characteristic Physical Properties
Chemistry & Crystallography
Dispersion
Strength: Weak Fire Value: 0.015
Refractive Index
1.746-1.755
Tolerance:(+0.004/-0.006)
Birefringence
0.008- 0.010
Polariscope Reaction
Doubly Refractive (DR)
Fluorescence
SWUV: inert to moderate red
LWUV: inert to moderate red
Pleochroism
Trichroic, strong green, orange and purplish red
Specific Gravity
3.710-3.750 Range:+/- 0.02
Inclusions
Alexandrite is a type II clarity stone. The stone may contain fluorite, apatite, mica platelets, rutile, and multi-phase inclusions along with negative crystals, fingerprints, liquid inclusions, needles, and hollow tubes. Alexandrite might show twinning.
Cleavage
Good, in one direction
Chemical Name
beryllium aluminum oxide
Crystal System
Orthorhombic
Chemistry Classification
Oxide
Alexandrite Colors
Brown

Green

Orange

Orange

Purple

Red

Yellow
Countries of Origin
Tanzania, United Republic Of; Myanmar; Russian Federation; Czechia; Sri Lanka; United States of America; Madagascar; Thailand; Switzerland; India; Spain; Unknown; China; Brazil; Mexico; Zimbabwe; Australia
History
According to legend, alexandrite was discovered on the 16th birthday of the young man who would become Tsar Alexander II. The mineral was actually discovered in the Russian Ural Mountain emerald mines in 1833 by Y. V. Kokovin. The original name for the mineral was kokovinite. N. G. Nordenskiöld proposed the name alexandrite in honor of the Russian Crown Prince in 1842. Alexandrite is an alternative birthstone for the month of June.
Care
Normal care if untreated. If the stones have been oiled avoid ultrasonics, heat, harsh cleaners.
More About Alexandrite
Many cultures believe that alexandrite brings good omens, change and renewal. To the Russian people in the later 1800s, it was thought to be a stone of prophecy and good fortune.
Creation Classification
Lab Created
Some gems, like alexandrite, are almost impossible to find in nature today, much less in the sizes and quality people dream of owning. Synthetic alexandrite can be created in a variety of ways including flux growth, Czochralski method, or floating zone method. Synthetic gems have the same chemical, optical, and physical properties of their natural counterparts, but are a more cost-effective alternative to a natural gem.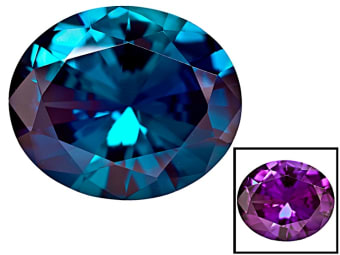 Classification
Optical Properties
Characteristic Physical properties
Fluorescence
SWUV: Moderate to strong red
LWUV: Moderate to strong red
Inclusions
Flux grown synthetic alexandrite might have metallic platelets from the platinum crucible, veil like inclusions, flux inclusions, flux filled cavities, straight or angular growth lines layers of dust-like inclusions parallel to seed plate.Czochralski method pulled stones will have needle like inclusions, curved striae and small black like gas bubbles.Floating zone or hydrothermal stones will have dark gas bubbles, long flat liquid inclusion and a swirled appearance.
Optical Phenomena
Cats-Eye and Star Alexandrite
The term cat's eye, or chatoyancy, is used to describe a phenomenal optical property in gemstones, in this case chrysoberyl. The effect, when present, appears as a bright, narrow slit similar to the pupils in the eyes of your favorite feline. This phenomenon is caused by parallel fibrous or needle-like inclusions oriented parallel to the C-axis that interfere with the passage of light throughout the crystal, scattering and reflecting light back to the viewer as a thin line. They are found in Brazil, India, Madagascar, Sri Lanka, and Zimbabwe. Chatoyant chrysoberyl is particularly incredible because it exhibits two rare phenomena: both the cat's eye effect and color change. The star variety of alexandrite is extremely rare, and it is found in India. It displays a 4-ray star that is due to hollow tubes within the stone.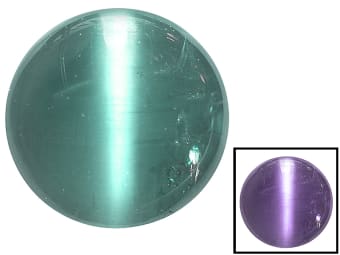 Classification
Characteristic Physical properties
Common Name
Cats-Eye and Star Alexandrite
Inclusions
Natural cat's-eye alexandrite typically has fine needles or hollow tubes. The stones can have fluorite, apatite, mica platlets, rutile and multi-phase inclusions along with negative crystals, liquid and fingerprint inclusions. Some stones might show twinning.