Amethyst was prized by ancient civilizations and was closely associated with spirituality, faith, and wisdom. The color purple has long been associated with royalty and the aristocracy. It is the birthstone for February. The color of amethyst ranges from light to intense purple. The lighter lilac or lavender variety is often called Rose de France amethyst. The most prized amethyst is transparent and exhibits an intense, uniform, purple color with red flashes.
General Information
Classification
Optical Properties
Characteristic Physical Properties
Chemistry & Crystallography
Transparency
Transparent - Translucent
Dispersion
Strength: Weak Fire Value: 0.013
Refractive Index
1.544-1.553
Tolerance:very constant
Polariscope Reaction
Doubly Refractive (DR)
Fluorescence
SWUV: Inert to weak blue
LWUV: Inert
Pleochroism
Dichroic, weak to moderate purple and reddish purple
Specific Gravity
2.640-2.690 Range:0.03/-0.02 Typical:2.660
Inclusions
Amethyst is a type II clarity stone. Color zoning in stones is often present in the form of "soap scum", "tiger stripes" or "zebra stripes", crystals, negative crystals, liquid inclusions, two-phase inclusions, partially-healed fractures, hematite needles.
Chemical Name
silicon dioxide (aka silica)
Chemistry Classification
Silicate
Alternate Names
Rose of France if pale lilac, Spirit Quartz if it has secondary pale amethyst growth coverage.
Countries of Origin
Tanzania, United Republic Of; Afghanistan; Argentina; Sri Lanka; Uruguay; United States of America; Madagascar; Zambia; Thailand; Bolivia (Plurinational State of); India; Canada; Mozambique; Morocco; Unknown; Botswana; China; Namibia; Brazil; Mexico; South Africa; Nigeria
History
Whether in faceted stones, crystal specimens, polished pebbles or beads, amethyst has enjoyed popularity in nearly every culture throughout its ancient history. Before the lucrative deposits of Africa and South America were discovered, amethyst was as treasured as ruby and emerald. February's traditional birthstone, striking purple amethyst is the most popular gemstone of the quartz group.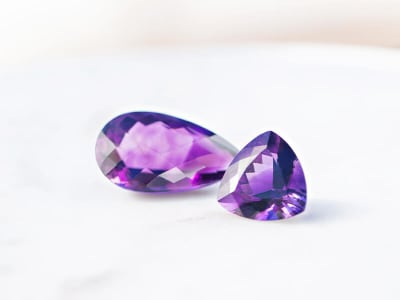 More About Amethyst
Deeply steeped in history and lore, ancient cultures believed amethyst had protective and curative powers; it was closely associated with spirituality, faith, and wisdom. It was even thought to prevent drunkenness. In fact, its name comes from the Greek and means not drunk. For centuries amethyst was reserved for the rich and the royal. Its deepest shades call to mind the power of "old money" and the sophistication of the wealthy. Fortunately, the beauty, history, and mystery of amethyst can now be affordably yours. Why not treat yourself like royalty and enjoy all that amethyst offers?