This trade name refers to a natural mixture of azurite and malachite that is often banded and can be used as both a gemstone or in decorative items. The bold greens and blues beautifully intertwine to form unique mineral specimens or gems, each piece always one-of-a-kind.
General Information
Classification
Optical Properties
Characteristic Physical Properties
Chemistry & Crystallography
Common Name
Azurmalachite
Refractive Index
Over The Limit 1.655-1.909
Tolerance:(+0.010/-0.010)
Birefringence
0.106-0.254
Polariscope Reaction
Aggregate (AGG)
Fluorescence
SWUV: Inert
LWUV: Inert
Streak
Light Blue To Light Green
Specific Gravity
3.700-3.950 Typical:3.800
Inclusions
Azurmalachite displays botryoidal growth or circular growth in green and blue. If the stone is stabilized it will appear compressed and have signs of polymer.
Fracture
Conchoidal, Uneven
Chemical Name
copper carbonate hydroxide
Chemical Formula
Cu3(CO3)2(OH)2 and Cu2Co3(OH)2
Crystal System
Monoclinic
Chemistry Classification
Carbonate
Azurmalachite Colors
Blue

Green
Countries of Origin
Unknown; China; United States of America; Mexico; Peru
History
Azurmalachite is a natural stone that combines azurite and malachite. It's often banded and can be used as jewelry, decorative items, or as a wonderfully green and blue addition to any collection. The blue of the azurite dances gracefully with the bold greens of malachite. Intertwined, they form unique mineral specimens that are sought by those who desire them and prized by those who own them. This intriguing stone marries the deep greens of a dense forest with the brilliant blues of a northern lake. The colors present a cool and compelling combination. As the stones intertwine to form unique patterns, each piece becomes one of a kind. A 3 ½ - 4 on the Mohs scale, if azurmalachite is used in jewelry, it should be in a well-protected setting.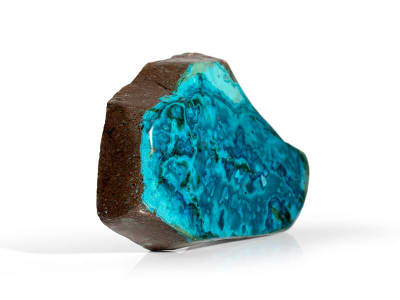 More About Azurmalachite
We found no established folklore for the combination stone that is azurmalachite.