Chrome diopside is a vibrant green variety of diopside that is colored by chromium, and to a lesser extent iron. Clean, bright stones above 2 carats are rare. The only known commercial deposit is located in the Republic of Sakha in Siberia, Russia. Yakutsk, the capital city, has the coldest winter temperatures for any major city on earth. Mining can only take place during the summer months due to the extreme winter conditions in Siberia.
General Information
Classification
Optical Properties
Characteristic Physical Properties
Chemistry & Crystallography
Common Name
Chrome Diopside
Transparency
Transparent - Opaque
Dispersion
Strength: Moderate Fire Value: 0.020
Refractive Index
1.675-1.701
Tolerance:(+0.029/-0.010)
Birefringence
0.024- 0.030
Polariscope Reaction
Doubly Refractive (DR)
Fluorescence
SWUV: Inert
LWUV: Green
Pleochroism
Dichroic, weak to strong light and dark green
Specific Gravity
3.220-3.400 Range:0.11/-0.07 Typical:3.290
Inclusions
Black needle-like magnetite inclusions that might be magnetic, metallic like inclusions and liquid inclusions.
Fracture
Conchoidal, Uneven
Cleavage
Good, in two directions
Chemical Name
calcium magnesium silicate
Chemical Formula
CaMgSi2O6
Crystal System
Monoclinic
Chemistry Classification
Silicate
Chrome Diopside Colors
Green
Countries of Origin
Tanzania, United Republic Of; Romania; Unknown; China; Finland; Russian Federation (the); Brazil; Madagascar; Kenya; Thailand; United Kingdom of Great Britain and Northern Ireland (the)
History
You will fall in love with the eye-catching green of chrome diopside. This stone is pleochroic and changes color when viewed from different angles. Its color is natural, which gives it a strong appeal to those who seek untreated stones. It's also refractive, which means that when well cut, chrome diopside is quite brilliant. And it's occasionally seen with cat's-eye chatoyancy. This beautiful stone was discovered in Siberia. The part of Siberia that produces this gem is so teeth-chattering cold that miners can dig down to it only when the temperature warms up enough to thaw the frozen earth that locks it in.
Care
Diopside is moderately soft, so be mindful of scratching. Avoid abrasives and solvents.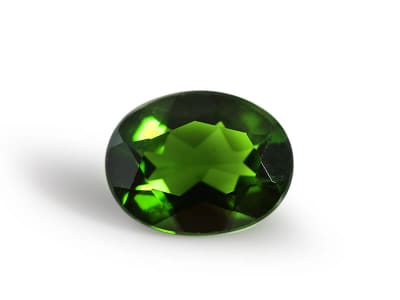 More About Chrome Diopside
Although chrome diopside wasn't a common gemstone before the 1980s, it wasn't unheard of. Some people believed that it fell from the Tree of Life. Others believed this stone led to the practice of burying loved ones with a chrome diopside, to make certain that they had an opportunity to move on to a new cycle of life. Still other folklore suggests that the stone brings tranquility and peace. For that reason, some cultures recommend that a chrome diopside be affixed to the forehead at night - in the belief that it would bring sweet dreams. Some say that the green of this stone connects one directly to the earth and helps make a direct connection to earth's energy.
Species/Variety
Cat's-Eye