The feldspar group is made up of many closely related mineral species. Feldspar minerals are some of the most abundant minerals within the Earth's crust and are a common component of rocks. Species that are rich in potassium (K) are called potassium feldspars. Orthoclase, Microcline (Amazonite), and Sanidine are potassium feldspars. Feldspars rich in sodium (Na) or calcium (Ca) are plagioclase feldspars. Albite, Oligoclase, Andesine, Labradorite, Bytownite, and Anorthite are plagioclase feldspars. The crystal structures of potassium and plagioclase feldspar are so similar that they frequently occur together, as alternating bands, within the same material. Feldspars can be triclinic or monoclinic depending on variety.
General Information
Classification
Optical Properties
Characteristic Physical Properties
Chemistry & Crystallography
Transparency
Opaque-Transparent
Refractive Index
1.518-1.574
Birefringence
0.006- 0.008
Optic Sign
Positive or Negative
Polariscope Reaction
Aggregate (AGG), Doubly Refractive (DR)
Fluorescence
SWUV: Inert to weak reddish orange
LWUV: Inert to weak reddish orange; inert to weak white
Luster
Vitreous, Subvitreous, Pearly, Dull, Greasy
Fracture
Conchoidal, subconchoidal, Uneven, Splintery, Irregular
Chemical Name
potassium aluminum silicate or calcium or sodium silicate depending on variety
Chemical Formula
Potassium feldspar KALSi3O8, Plagioclase NaAlSi3O8 or CaAl2Si2O8
Feldspar Colors
Black

Blue

Brown

Colorless

Gray

Green

Multi-color

Orange

Pink

Red

White

Yellow
Feldspar Spectra

ORTHOCLASE
Color due to iron. Many of the pale-yellow specimens of this variety of feldspar show only a weak and indistinct absorption line at 448nm. The more saturated color here shows this as a strong band accompanied by an even broader one centered at 420nm. Both bands are typical of a ferric iron spectrum
We acknowledge the significant scientific contributions of John S Harris, FGA to the study of gemstone spectra and with deep appreciation to him, acknowledges the use of his images and related notes about gemstones and their spectra in the educational materials on this website.
Countries of Origin
Tanzania, United Republic Of; Russian Federation; United States of America; Madagascar; India; Canada; Mongolia; Pakistan; Unknown; China; Namibia; Brazil; Italy; Mexico
Care
Normal care for most varieties of feldspar. Avoid hard wear, heat, chemicals and ultrasonic cleaners for amazonite and sunstone.
Species/Variety
Orthoclase Feldspar
While feldspar is one of the most abundant mineral families in the world, gem quality crystals are scarce, coveted and spectacularly beautiful, as they often possess rare optical effects. Many feldspar gems only occur in isolated deposits and are far rarer than better known gems such as diamond, ruby or sapphire. Some varieties are commonly encountered and many are seen in granites, for example, "Black Pearl" granite countertops are actually composed mostly of feldspar. While orthoclase, a potassium-rich feldspar, is better known to collectors, there is one variety that many are familiar with--moonstone, prized for its shimmering adularescence.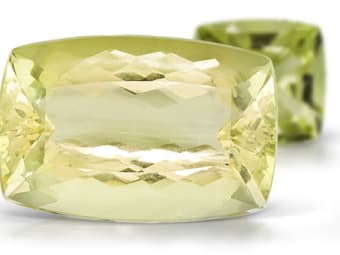 Classification
Optical Properties
Characteristic Physical properties
Common Name
Orthoclase Feldspar
Dispersion
Strength: weak fire Value: 0.12
Refractive Index
1.518-1.526
Tolerance:(+0.010/-)0.010)
Birefringence
0.005-0.008
Fluorescence
SWUV: Transparent yellow: Inert to weak reddish orange
LWUV: Transparent yellow: Inert to weak reddish orange semitranslucent white: red
Inclusions
Orthoclase feldspar might display centipede like inclusions. Material with aventuresence or asterism might contain reflective inclusions such as fine needles or elongated hematite platelets.