Kunzite is the best-known variety of spodumene. It was named in honor of George Frederick Kunz in 1903. The color ranges from light to medium pink through violetish purple. The color is due to trace amounts of manganese in the stone. Kunzite can be difficult to cut because it has perfect cleavage in two directions. Stones must also be oriented with the table facet perpendicular to the length of the crystal, to obtain the most intense color. The stone can fade if exposed to direct sunlight, but the color can be restored upon exposure to other forms of radiant energy.
General Information
Classification
Optical Properties
Characteristic Physical Properties
Chemistry & Crystallography
Dispersion
Strength: Moderate Fire Value: 0.017
Refractive Index
1.648-1.682
Birefringence
0.014- 0.018
Polariscope Reaction
Doubly Refractive (DR)
Fluorescence
SWUV: Weak to moderate yellowish pink to orange
LWUV: Strong yellowish pink to orange
Pleochroism
Trichroic, moderate to strong pink, purplish pink, and colorless
Specific Gravity
3.030-3.230 Range:+/-0.03 Typical:3.180
Inclusions
Kunzite is a type I clarity stone. Kunzite sometimes has growth and etch tubes, healing cracks, liquid and multi-phase inclusions.
Fracture
Uneven, Splintery
Cleavage
Perfect, in two directions
Chemical Name
lithium aluminum silicate
Chemical Formula
LiAlSi2O6
Crystal System
Monoclinic
Chemistry Classification
Silicate
Countries of Origin
Tanzania, United Republic Of; Afghanistan; Sri Lanka; United States of America; Madagascar; India; Canada; Mozambique; Pakistan; Unknown; China; Namibia; Finland; Brazil; Australia; Nigeria; Ethiopia; Nepal
History
Kunzite was discovered in California, but it is disputed when it was discovered and by whom. What is known is that George Frederick Kunz, noted gemologist and mineralogist, verified it as a new variety of spodumene in 1902. It was voted to name the stone in honor of Kunz in 1903. Kunzite is sometimes called the evening stone since tends to fade in direct sunlight.
Care
Gentle care. Prolonged exposure to light, especially UV and sunlight, will cause fading. The material can cleave or fracture easily. Wear with care.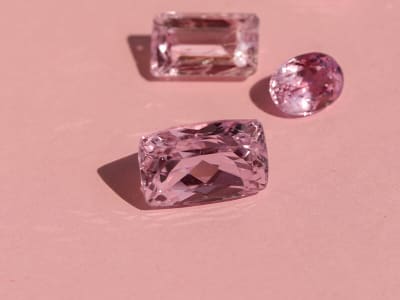 More About Kunzite
It is legend that it was proposed that Kunzite be named after banker and financier J. P. Morgan, but he could not be reached for permission to name the stone after him. In 1911 Morganite was later named in his honor.