Prasiolite is a green variety of quartz. The two components of its name are derived from Greek roots meaning leek-green stone. The color is produced by irradiating or heat-treating amethyst containing ferrous iron (Fe2+) to approximately 500oC, although some natural prasiolite has been found.
General Information
Classification
Optical Properties
Characteristic Physical Properties
Chemistry & Crystallography
Transparency
Transparent - Translucent
Dispersion
Strength: Weak Fire Value: 0.013
Refractive Index
1.544-1.553
Tolerance:very constant
Polariscope Reaction
Doubly Refractive (DR)
Fluorescence
SWUV: Inert
LWUV: Inert
Pleochroism
Dichroic, unobservable or weak, varying shades of body color
Specific Gravity
2.640-2.690 Typical:2.660
Inclusions
Prasiolite is a type II clarity stone. Stones may contain crystals, negative crystals, liquid inclusions, two-phase inclusions and partially-healed fractures.
Chemical Name
silicon dioxide (aka silica)
Chemistry Classification
Silicate
Alternate Names
Green Quartz, "Greened Amethyst"
Countries of Origin
Tanzania, United Republic Of; Uruguay; United States of America; Madagascar; Thailand; Bolivia (Plurinational State of); India; Mozambique; Unknown; China; Brazil; Mexico; Zimbabwe
History
Prasiolite is an easy-going, gentle, pastel-green stone. Although it's found naturally, it's extremely rare. So... we nudge Mother Nature! As with many stones, heat treatments are transforming. Amethyst from Montezuma, Minas Gerais, Brazil was first found to turn green when it was heated. Since then material from Four Peaks, Arizona; Zimbabwe; Ceará, Brazil; and a location in California have also been found to turn green upon treatment. Because prasiolite is a variety of quartz, it's a seven on the scale of hardness and therefore extremely wearable.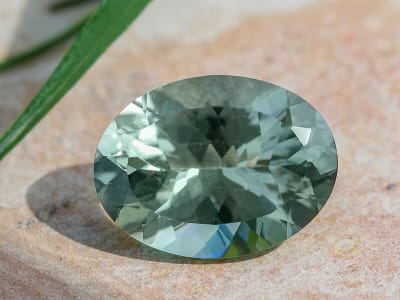 More About Prasiolite
One of the folkloric attributes of prasiolite is that it fosters compassion. Those who believe in the powers of gemstones say that this stone encourages self-acceptance and self-honor, that it ignites love and brings spiritual ideals into everyday life. Embrace its easy and enviable green.