Smoky quartz is a variety of quartz that is brown to brownish black. The color is created by exposure to natural or artificial gamma rays. Morion is the name applied to a nearly black variety of smoky quartz that is semitranslucent or opaque. Most faceted smoky quartz comes from Brazil, but fine mineral specimens can be found from around the world.
General Information
Classification
Optical Properties
Characteristic Physical Properties
Chemistry & Crystallography
Transparency
Opaque-Transparent
Dispersion
Strength: Weak Fire Value: 0.013
Refractive Index
1.544-1.553
Tolerance:very constant
Polariscope Reaction
Doubly Refractive (DR)
Fluorescence
SWUV: Inert
LWUV: Inert
Pleochroism
Dichroic, unobservable or weak, varying shades of body color
Specific Gravity
2.640-2.690 Range:0.03/-0.02 Typical:2.660
Inclusions
Smoky quartz is a type II clarity stone. Color zoning often present in stones in the form of "tiger stripes" or "zebra stripes". Stones may contain crystals, negative crystals, liquid inclusions, two-phase inclusions and partially-healed fractures.
Chemical Name
silicon dioxide (aka silica)
Chemistry Classification
Silicate
Smoky Quartz Colors
Brown

Brown
Alternate Names
Cairngorm If Dark Brown Or Morion If Nearly Opaque Black, Mandiore Dorado Quartz(TM), Champagne Quartz, Latte Quartz, Whiskey Quartz
Countries of Origin
United States of America; Madagascar; Thailand; United Kingdom of Great Britain and Northern Ireland; Switzerland; Bolivia (Plurinational State of); India; Mozambique; Pakistan; Unknown; China; Namibia; Brazil; South Africa; Peru; Germany
History
Rich, warm, clear... smoky quartz is a stone you'll appreciate for its coffee-color and earthy appeal. As with other members of the quartz family, this stone is usually extremely clear, so light can enter it and dance out again. Set smoky quartz in yellow metals or rose-toned metals or white metals... wherever it goes, it's a delicious delight.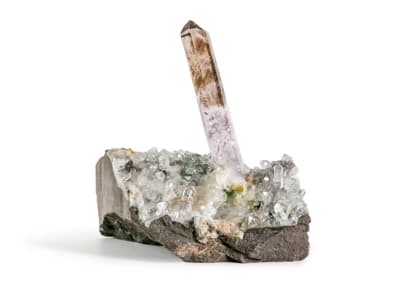 More About Smoky Quartz
Smoky quartz is the national gemstone of Scotland. The source found in the Scottish Highlands is called Cairngorm. According to folklore, quartz is a stone credited with the ability to attract positive things like love. It's also credited with the ability to help one achieve inner peace. We can see that. It's a peaceful sort of stone.