What is Emerald?
Emerald, the birthstone for May, is one of the most sought-after gemstones in the world.
Emerald FAQ
Here are answers to more frequently asked questions about May's birthstone:
What color is May's birthstone?
Emerald is famous for its gorgeous green colors that range from anywhere from blue-green to yellowish-green.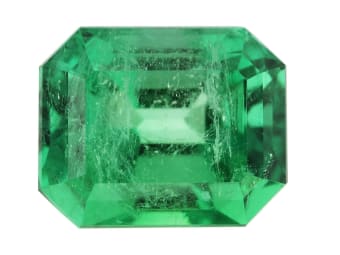 Where is emerald found?
Emerald can be mined all over the world. However, there are just three main sources of emerald for commercial use - Colombia, Brazil, and Zambia. Colombian emerald, known as jardin, is arguably the finest emerald in the world. Colombia also accounts for more than 70% of the world's emerald market. 
Other countries with abundant emerald supplies (but don't frequently mine) include Afghanistan, Australia, Pakistan, Russia and even the United States.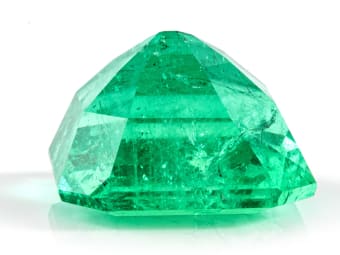 Is emerald valuable?
Larger emeralds are more valuable than a collection of smaller emeralds. For example, if you have three small emeralds and one large emerald of equal quality and weight, the singular large emerald will be worth a lot more than the three small emeralds put together. Overall, emeralds are highly valuable stones as they are quite rare and harder to find.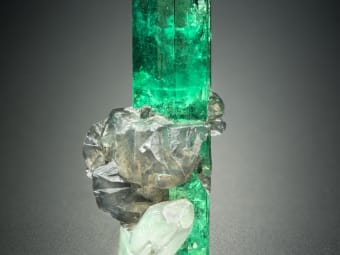 What are the different species of emerald?
Colombian Emerald - Mined solely in Colombia and known for its high quality. 
Brazilian Emerald - Lighter green gemstone mined in Brazil. 
Cat's Eye Emerald - Has a cat-eye effect called chatoyancy. Very rare and only found in paler green emeralds. 
Trapiche Emerald - Contain black impurities that form a six-rayed star. Sometimes called star emeralds.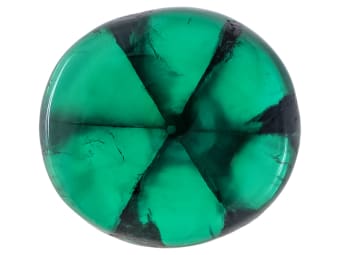 Did you know... The oldest emerald ever discovered is about 2.97 billion years old?
Emerald Gemstone Properties
For more facts and information about the characteristics of the May birthstone, check out the Emerald Gemopedia page.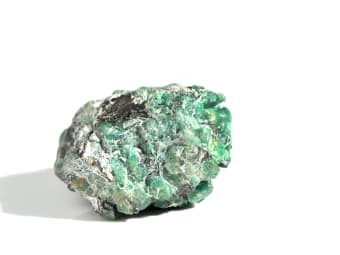 Physical Properties of Emerald
Emerald is a sturdy stone with a Mohs Hardness score of 7.5. With proper care, this birthstone can easily last you a lifetime. Emerald's luster is classed as vitreous, which just means that it has a glass-like appearance.
Healing Properties and Benefits of Emerald
It is long believed to promote love, unity and friendship. That makes emerald jewelry the perfect gift for friends and family born in May. Some refer to emerald as the stone of eternal love, so emerald gifts for a 20th wedding anniversary have become a tradition.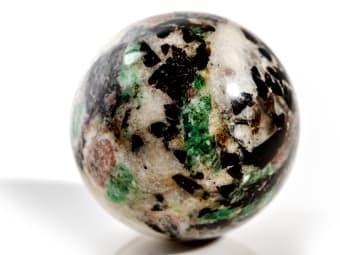 What is the spiritual meaning of emerald?
Records show emeralds were being mined in Egypt long before even Cleopatra's reign. They were associated with eternal youth in Egypt's culture and were associated with fertility and rebirth in Roman culture.
Did you know... In ancient folklore, people believed that placing an emerald under your tongue would help you see the future?
Emerald Birthstone Jewelry and Gifts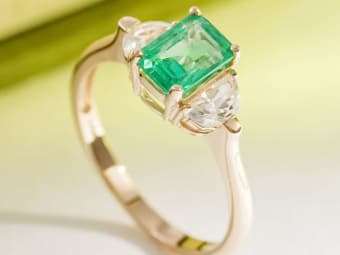 Emerald May Birthstone Jewelry Buyers' Guide
Add a touch of emerald to your collection for some classic style and elegance. Emerald has been sought after since it was first mined in 300 BC Egypt by both trendsetters and traditionalists. According to legend, those who wear emerald jewelry will be gifted the ability to see into the future. We will leave that up to you to decide, but we can see you wearing this gem in the near future. 
If you're a May baby, you're lucky enough to be graced with the sophistication and beauty of emerald for your birthstone. Enjoy the lush greenery and earthy styles of the emerald birthstone in necklaces, bracelets, rings, earrings, and more.
Emerald jewelry is the perfect gift for the May babies in your life, but it's also an appropriate choice for celebrating love and life at other times of the year. You don't have to be born in May to enjoy this special gem. 
If you're loving the color, but you're not sure about Emerald's cut, don't worry. May's birthstone comes in a full range of shapes and cuts so you can find one that matches your aesthetic, preferences, and budget. Shop stunning emerald halo rings, delicate emerald bracelets, sophisticated emerald pendants, and more. Not sure what to get? Make your very own set and mix and match your favorite emerald birthstone pieces to really make a statement.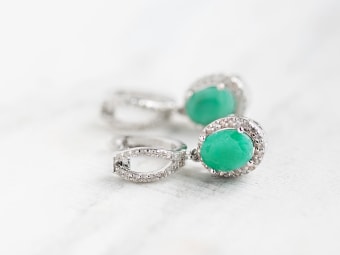 Did you know... On a per-carat basis, top-quality emeralds can be worth more than diamonds?
May Birthstone Alternatives
We can't imagine you wouldn't want to be associated with one of the rarest and sought-after gemstones in the world, but if you insist May's alternative birthstone is agate. Agate comes in a variety of colors including pink, yellow, brown, bi-color, multi-color and more! Agate is believed to cleanse and balance the mind and spirit.