If you've ever looked around rock shops (stores that sell minerals, rocks or gemstones for collecting) you've probably noticed two gorgeous blue gemstones: lapis lazuli and sodalite. At a quick glance, they can be mistaken for each other, but here we'll tell you more about each of them and how to tell them apart. We'll also learn about their origins, historical uses as gemstones and stories about them that will help you select a favorite!
Why do people mistake lapis lazuli and sodalite?
Blue is a color that we can all relate to in some way. Psychologists talk about it being a color of peace and tranquility in some contexts, and of stability and trust in others. Regardless of meaning, we are all moved by the incredible richness of the blue seen in lapis lazuli, which is an ultramarine blue metamorphic rock and the similar blue hue of sodalite, a royal blue mineral. When identifying lapis or sodalite, it is relatively easy to tell large specimens apart, but smaller examples can look very similar. In this article we will discuss both.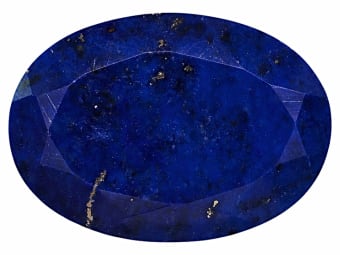 What is lapis lazuli?
Lapis Lazuli is a rock made up of a number of different minerals. Sodalite can even be one of those minerals! However, lapis lazuli is primarily made up of lazulite, which is the source of the incredible blue for which it is known. This material was known as 'ultramarine' by the European art world centuries ago. At the time, it was brought to Europe by determined traders traveling the Silk Route from Europe to China through present-day Afghanistan. Back then it was highly sought after and very expensive – more so than gold! Even today, the very best lazurite is used by art restorers working on returning the famous works of Europe's classical artists to their former glory. A great example of this would be Vermeer's famous painting of 'The Girl with a Pearl Earring'.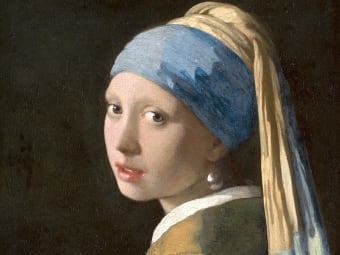 Lapis Lazuli also contains other minerals such as pyrite, a golden metallic mineral that will add a tell-tale glint to lapis lazuli, and calcite which generally appears as white veins or specks in the lazulite. Lapis Lazuli is also opaque and may contain diopside and mica.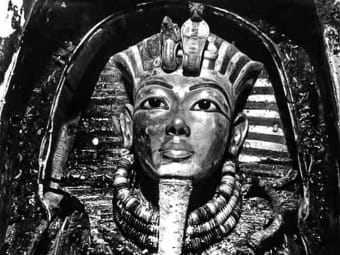 Did you know...Lapis Lazuli's blue color has been captivating to many cultures and fueled demand for it. For example, the eye-brows and eye-surrounds in King Tutankhamun's death mask are lapis lazuli and date from 1323 B.C.
What is sodalite?
Sodalite is a mineral that is part of a group known as feldspathoids, like haüyne. As mentioned above, sodalite can be a constituent mineral in lapis lazuli. The blue of sodalite is generally less striking and a little darker, but this is a generalization. The best blue pieces of sodalite will look very similar to average pieces of lapis lazuli. It should be noted that sodalite is also found in transparent and translucent crystal forms and a variety of shades from grey and green to blue and black; whereas lapis lazuli is widely known for its wonderfully rich, royal blue.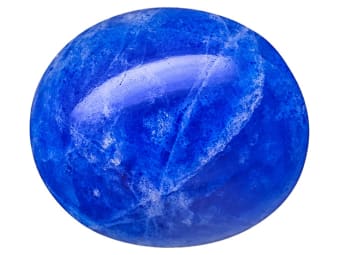 In terms of occurrences and historical use, sodalite has a less rich and extensive history of use in the decorative arts. This is due in part to its occurrence in more remote areas like Greenland and parts of Canada, Bolivia and Namibia, where the cultures did not exploit it as a decorative material and where there was no outside demand for it.
Did you know…Hackmanite is a variety of sodalite found in Afghanistan and Greenland that sometimes displays a fascinating effect known as 'tenebrescence' or 'reversible photochromism'.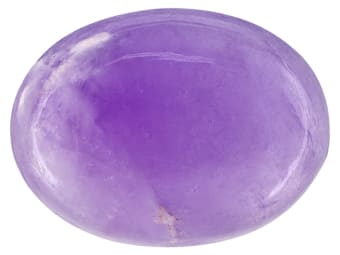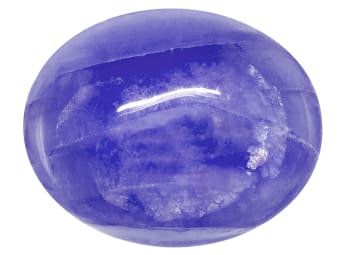 Did you know...Hackmanite is either transparent, white or pink to violet in color. Exposure to strong light may cause it to turn pink or violet, or a darker shade of pink or violet from 'tenebrescence'.
How do you tell the difference?
As mentioned earlier, identifying lapis lazuli from sodalite can be difficult when looking at the smaller pieces that collectors often acquire, but there are a few helpful details to look for.
Pyrite is a very common inclusion in lapis lazuli and will not be present in sodalite, so look for the tell-tale golden metallic twinkle.
Lapis Lazuli is always opaque, whereas sodalite may be translucent or even transparent in some examples.
The blue of lapis lazuli is generally even because it is fine-grained, whereas sodalite can share similar shades of blue, but is more likely to have a blotchy or mottled appearance. A side-by-side comparison will also show the graining to be somewhat more course. This extends to the presence of white calcite crystals in both lapis lazuli and sodalite. In lapis lazuli, the calcite will be as fine-grained as the lazulite, while the calcite in sodalite will be crystals that are more course and cut through in more clearly defined veins rather than lapis lazuli's more subtly blended effect.
Conclusion
Closer examination will make telling lapis and sodalite apart a simple exercise without the need for any special equipment, although a loupe may help examine the grains and the white calcite a little closer. Although lapis lazuli is arguably more desirable of the two; it's use is more firmly established in jewelry and decorative objects. Regardless of this, lapis and sodalite are fabulous gemstones that would make beautiful jewelry or must-have additions to any gemstone collection.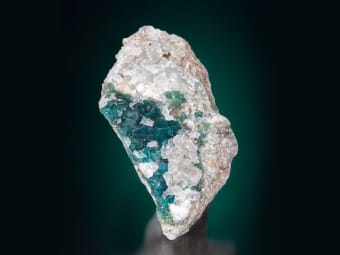 References
Rock-Forming Minerals, Deer, Howie Zusman, 1993
Rocks Minerals and Gemstones, Walter Schumann, 2013
Photographic guide to minerals of the world, Ole Johnson, 2002
Gemmology, Peter Read, 2005
Gemstones, Cally Hall, 2000 
How and Where to Find Gemstones, Bill Myatt, 1987
Gem Identification Made Easy, Antoinette Matlins, 2016
SRG, 2016