What is chrome diopside?
From the first flash of brilliant green, chrome diopside is a gorgeous green gemstone that has quite the story of where it comes from, how it's prepared for sale and what it's all about. And it's extreme in every imaginable way! The most noticeable trait of chrome diopside is Its rich green color which makes it stand out from its gemstone species, diopside. This extreme green stone is an affordable alternative to the ever-popular emerald, tsavorite garnet and other green gems.
Color: It's the standard shade of green because of chromium, an element that gives gemstones like chrome diopside their rich color. Although very few gem materials are colored by chromium, it can cause intense, brilliant and breathtaking color. Think of the finest red rubies, the most stunning green emeralds and spinel that can stand out in many brilliant colors.
Clarity: Chrome diopside is a rich green gem that is often free of eye-visible inclusions. Other green gems of comparable color and clarity would typically be much more expensive than chrome diopside.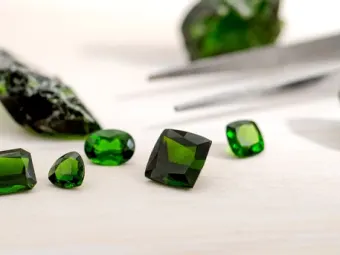 Durability: With a hardness of 5.5-6.5, chrome diopside can be worn for multiple occasions if handled properly and cared for, but avoid dropping chrome diopside due to its poor toughness.
Rarity: Chrome diopside can be found in multiple countries around the world including Australia, Argentina, Brazil, China, France, Japan, Poland and more; however, there is only one location in the world that has jewelry quality chrome diopside: Yakutia in the Siberian Tundra. This vast and desolate land is located at the top of the northern hemisphere. Because of its location, short summers and long winters, it is one of the coldest places on Earth. Chrome diopside can only be mined between the months of June and August when conditions are warm enough.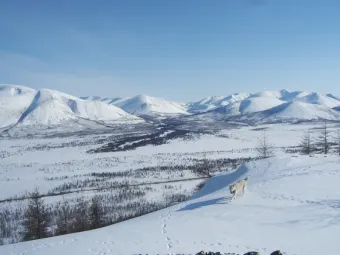 Rarity/Mining: The isolation and temperatures are only part of the extreme story. Chrome diopside sits on a layer of permafrost that is 1,600 feet deep which never thaws. The permafrost begins about 160 feet below the surface of the earth. Once miners have extracted the usable chrome diopside from the earth, it must travel to the cutting center. These rough gemstones must travel approximately 2,500 miles, starting from the Inagli chrome diopside deposit, cut across the frozen tundra of Siberia and move through the edge of Mongolia and down to the gemstone cutters in China. 
Rarity/Cutting: The intense journey of chrome diopside continues with the stone cutters. Chrome diopside is extremely difficult to cut.  About 90% of the total carat weight is lost in cutting due to several factors.
First, only a very small percentage of mined rough is gem quality. Most chrome diopside rough is too fractured and included to facet.
Second, chrome diopside has two cleavage planes which means it splits easily along those planes; because of this, a cutter can make one wrong move and a stone is ruined.
Finally, chrome diopside color darkens as stones increase in size. To get the best color in the best sizes, a cutter must be experienced and highly skilled.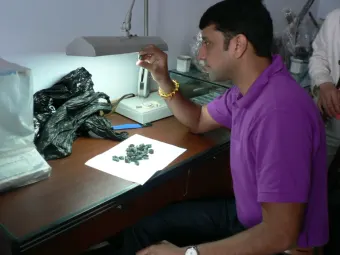 Since gemstone quality chrome diopside can only be found in Siberia, shipped to China and much of it is lost in the cutting process, it is certainly rare compared to other gem materials but still affordable!
Optical Properties: When it comes to gemstone optical properties, chrome diopside has a dull to vitreous luster, which refers to the surface reflection of light. Chrome diopside is also highly refractive, which means light slows down and changes direction within the gemstone or other transparent or translucent materials. For this reason, chrome diopside can produce amazing dispersion or fire.
What is emerald?
Emerald is considered by some to be the king of colored gemstones, among ruby and sapphire. Its rich green hue, exceptional hardness, rarity and history all contribute to emerald's incredible reputation. Moreover, this beloved type of beryl (beryllium aluminum silicate) is considered the most popular green gemstone compared to others such as peridot or chrome diopside. Emerald's name stems from the Greek word "smaragdos" which means "green gem". 
As the birthstone for May, emerald's green color is associated with life, growth and eternal spring. With a hardness of 7.5-8, emerald can withstand everyday wear well with the right caution, but it must be handled with care due to poor toughness. Additionally, emeralds can be found in many areas worldwide including Brazil, Colombia, China, Canada, India, Pakistan, the United States and more. 
Of course, this is only a small fraction of emerald information available. To learn more about emerald, its facts and story, check out our article on emerald as the birthstone of May.
Chrome Diopside vs. Emerald
People often ask the differences and similarities between chrome diopside and emerald. These points can help compare both gemstones.
As mentioned before, chrome diopside is commercially viable in one location while gemstone quality emerald is found all over the world.
Chrome diopside is a recent find, but emerald has been known and well-loved for centuries.
Chrome diopside is a Type II stone, meaning it often is free of eye-visible inclusions but it's not uncommon to have them. Emerald, on the other hand, is a Type III stone, meaning you should expect to see eye-visible inclusions which can include its famous three-phase inclusions (a solid, liquid and gas all located inside one another).
Both gemstones have a glass-like or vitreous luster.
Chrome diopside is mostly colored by chromium with some traces of iron while emerald is colored by chromium, iron and vanadium.
Chrome diopside is much less expensive per carat than most emeralds.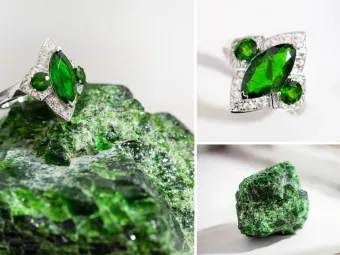 Conclusion
Despite looking similar to the naked eye, chrome diopside and emerald are both unique gemstones that belong to their own gemstone species. And aside from being green, they have their own unique physical and chemical characteristics and history. Although chrome diopside and emerald contrast more than they compare, they don't have to compete as nature's precious wonders that people love to view and collect.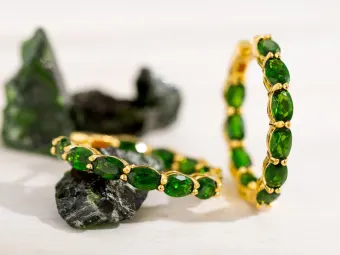 References
Friedman, H. (n.d.). Diopside: The pyroxene mineral diopside information and pictures. Retrieved from https://www.minerals.net/mineral/diopside.aspx
Sisk, G. D. (2011). Jewelrytelevision Guide to Gems & Jewelry. Jewelry Television.